The Lost Treasure of Granny Snake-Eyes
The Lost Treasure of Granny Snake-Eyes is a small, dense, interactive TTRPG adventure and race against rivals set in a deadly crypt.

Granny Snake-Eyes, your friend, adoptive granny, or gambling buddy, is up to her snake-eyes in debt and needs your help getting her treasure from her late husband's tomb. But a rival party, the Knock-Backs, are hot on your heels. Beat them to the tomb before they take the treasure for themselves. Beware of vengeful wraiths, venomous snakes, and gambling skeletons.
System-agnostic but with stats for old school games and 5e, with adjustments (just double the HP)
Suitable for adventurers of 3rd to 4th level
Race against a rival party with a ticking clock procedure
A colorful cast of characters
Just 8 pages, all landscape! So it feels like 16 pages
Contains 9 rooms on 3 pages with inset maps with the rooms highlighted for ease of use and reference
Isometric map! How fun!
Loops and multiple entrances, as jaquaysed as 9 rooms could be
Includes hooks for future adventures found throughout the dungeon
A random hat generator (it's relevant, I swear)
A chase sequence complication generator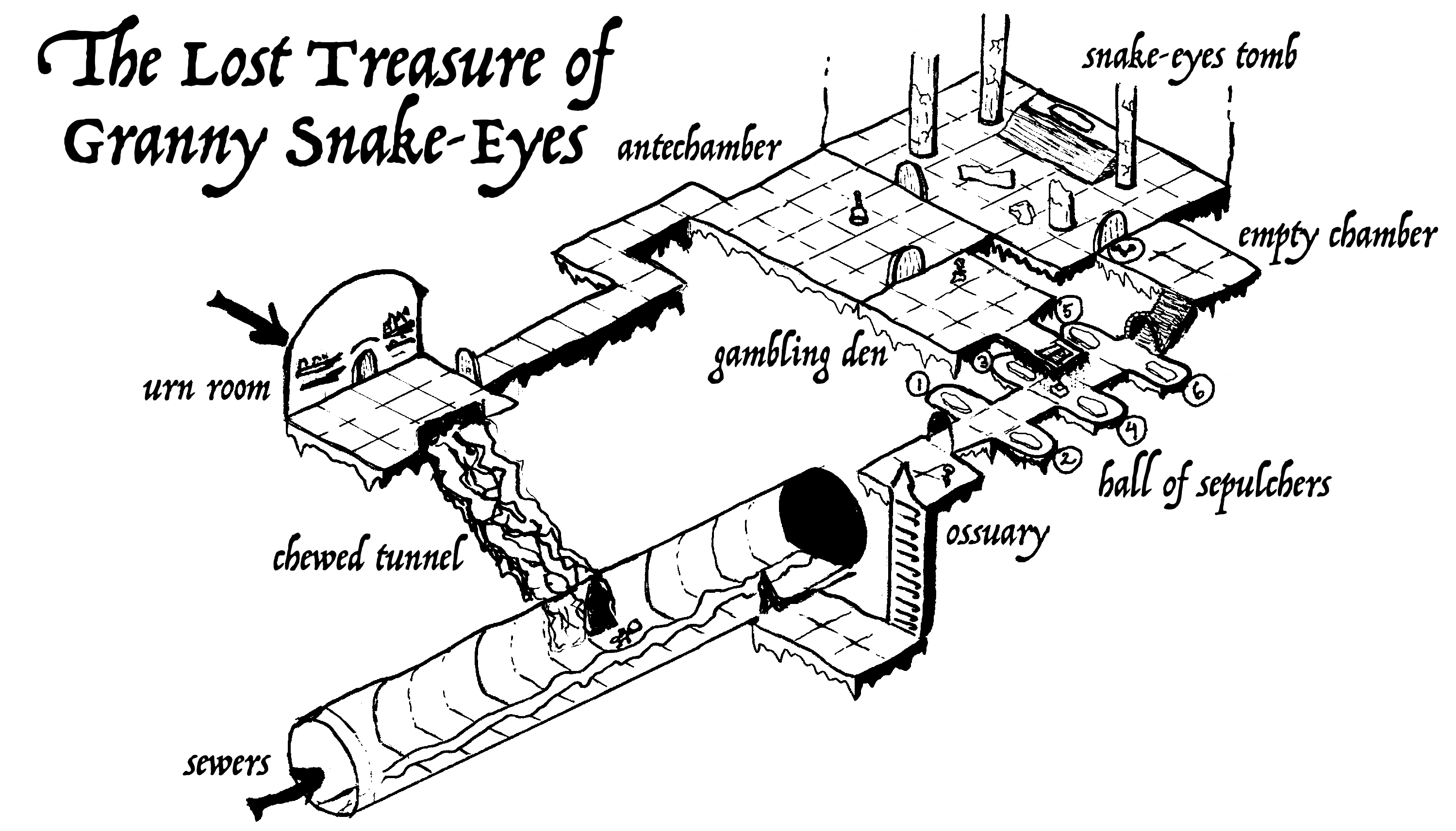 Download includes
Isometric map of the dungeon as a PNG
High resolution printable PDF
Lightweight digital PDF
EPUB version
Accessible HTML version
This dungeon is based on an episode of Tabletopped, a podcast about TTRPGs (found anywhere podcasts are found), where we designed a first session from scratch (Spotify link).
Content warning: Some grisly description of a victim of a fireballing cursed chalice and also there's a victim of a snakebite. Otherwise, it's bones all the way down. Also gambling is part of the premise but Granny Snake-Eyes's gambling debt can be easily replaced with some other type of debt and the skeletons gambling can be playing any kind of game and just trading a hat around.
Download
Click download now to get access to the following files:
grannysnakeeyes-digital.pdf
501 kB
grannysnakeeyes-forprint.pdf
10 MB
grannysnakeeyes-accessiblehtml.html
20 kB
grannysnakeeyes-epub.epub
561 kB
grannysnakeeyes-map.png
383 kB